Feeling Festive?!?  Have you had your tree up since Nov 1st?!?  Girl, I completely understand.  Everything feels so different this year so I say do what makes you happy!
Our December T-shirt Club Tee is this fun red and turquoise design on a bold black long sleeve tee.  It's meant to be worn for ALL the festivities!!
* This post may contain affiliate/referral  links. I could make a commission at no charge to you if you purchase my recommended products.  Please read my disclosure and privacy policy here.
4 ways to style our Feeling Festive Tee
This is my weekend look lately.  Cute tee + pajama pants + cozy slippers.  It may or may not involve a wine tumbler….our little secret!
Whether it's a band concert for the kids, or just the usual errands.  I little pop of color with shoes can turn a simple tee into a cute outfit!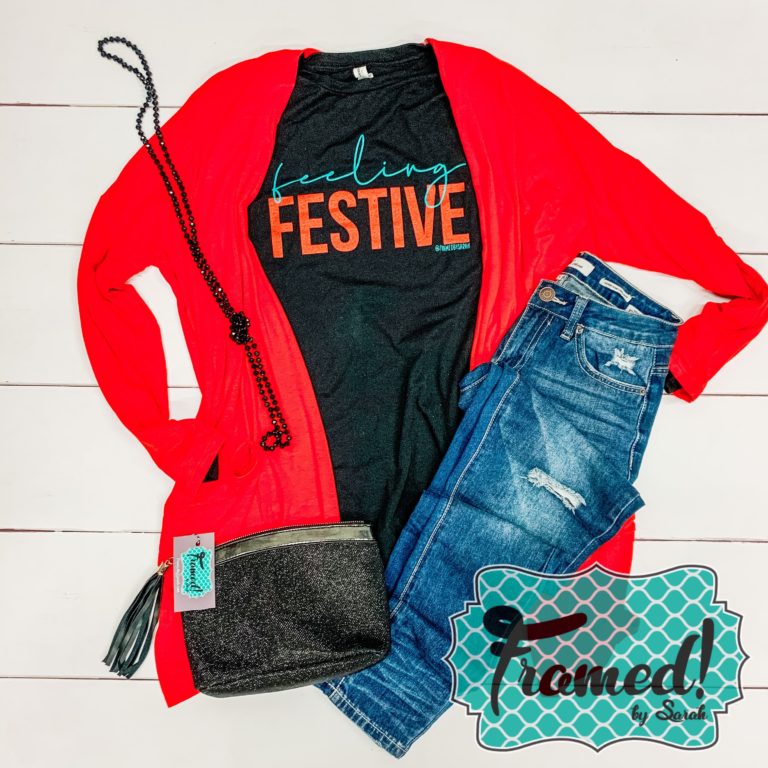 I always feel more put together when I have a matching cardigan and cute accessories.  It's like I planned it!  Beaded necklaces are a great way to dress up any outfit and they are so lightweight.
Send me a quick "Hey Girl" to 940-209-0980
Join the T-Shirt Club today and never miss out on one of our cute tees again!